the bow river:
Blackfoot trail launch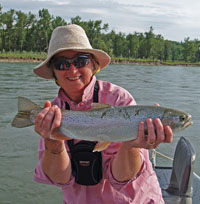 This launch is located on the south edge of Pierce Estate Park, right beneath Cushing Bridge on Blackfoot Trail, and just downstream of the weir. When the river is blown out downstream of Calgary, this is a good starting point for a full day city drift to Fish Creek Park.
The 7 km or 4 mile drift to the Grave's Landing launch at Glenmore Trail also makes it an ideal starting point if your time is limited. While there is a very wide, slow section of water on this stretch of river, it also has several nice runs and holes that present the fisher some great opportunities to catch some very nice fish.
For more information on guided tours and events please contact us

BACK TO MAIN BOW RIVER MAP