FAQ – Bow River Fishing with Clearwater Adventures
Alberta Sportfishing Regulations:
For Bow River, Click here
For Southern Alberta Waters that we guide on, Click here
For the Alberta Guide to Sportfishing Regulations, Click here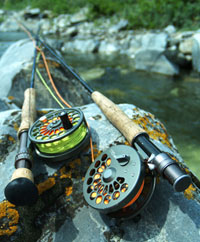 What weight rods should I bring?
If fishing the Bow River, you may want to have up to 3 rods:
Dry flies - 5 wt
Nymphing - 5 wt
Streaming - 6 wt
For mountain rivers, 3 wt to 5 wt rods are ideal. Keep in mind that wind can be a factor when fishing the rivers and streams in the Calgary area. As a result, many anglers prefer fast action rods.
When nymphing or casting larger dry flies on the Bow River, it is not unusual to be using 0x to 3x leaders and tippet. On our mountain streams, 5x is often sufficient unless you are planning on throwing streamers.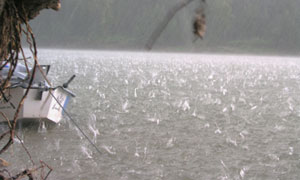 What's your weather like and what kind of clothing should I bring?
While some summer days are quite hot, the maximum daily temperatures in June, July and August average in the low 20 degree Celsius range. Our proximity to the mountains results in weather that is often unpredictable. What starts out as a calm, clear, hot day can end up windy, wet, and cool. Strong winds, thunder showers, rain, and hail can hit unexpectedly as it did on this July afternoon. (photo will remain) Temperatures often drop quickly once the sun has set. Layered clothing along with a windbreaker and rain gear will prepare you for most summer conditions. A hat, sunscreen and polarized glasses should be included with the gear you bring. To help you prepare for your stay, check out Calgary's five day forecast at the Environment Canada website.
What is the cost of a fishing license?
License fees in Alberta are based on where an angler resides. Anglers are classified as either Residents, Canadian Non-residents or Non-resident Aliens.
A Resident is an individual whose home is in Alberta and who is ordinarily present in Alberta, is a Canadian citizen, or a permanent resident.
A Canadian Non-resident is a person who is a resident of Canada but who makes their home in a province or territory other than Alberta.
A Non-resident Alien is a person who is neither an Alberta resident or a non-resident Canadian.
The following table lists the fees for sportfishing licenses in Alberta. Fees are in Canadian dollars and do not include the five percent (5%) federal Goods and Services Tax (GST). Before purchasing any license, a person must hold a valid Wildlife Identification Number (WIN). You can apply for your WIN card when you purchase your license. The WIN costs $8.00 and is valid for five years.
| | |
| --- | --- |
| Alberta Resident | License Cost |
| 16-64 years of age | $28.00 |
| Age 65 or older | No License Required |
| Youth (less than 16 years) | No License Required |
| Canadian Resident From Outside Alberta | License Cost |
| Age 16 or older: | |
| Annual | $60.00 |
| Limited (7 Day) | $41.00 |
| Limited (1 Day) | $25.00 |
| Youth (less than 16 years) | No License Required |
| Non-Resident From Outside Alberta | License Cost |
| Age 16 or older: | |
| Annual | $85.00 |
| Limited (7 Day) | $55.00 |
| Limited (1 Day) | $26.63 |
| Youth (less than 16 years) | No License Required |
Click this link to purchase your WIN card and sportfishing licence.
What kind of drift boat will we be fishing from?
When drifting the Bow River, you will be fishing from a Mackenzie style drift boat. These boats are very stable and provide anglers with a sturdy platform from which to fish. Most boats will have rod storage systems that will keep your fly rods safe from breakage. Sealed, watertight storage compartments are also common and they will keep your extra clothing and personal effects dry. Comfortable swivel chairs and casting decks with leg braces to support each fisher, contribute to a comfortable and enjoyable fly fishing experience.
Where can I stay?
Whether you are looking for an upscale hotel in downtown Calgary, or accommodations that are a little more removed from the hustle and bustle of a large city, we can help point you in the right direction. We can also help you out if you are looking for something out of the city and closer to some of our mountain rivers. Give us a call if you would like some suggestions.
Phone Toll Free: 1-877-607-4427;
In Calgary Area: 403-607-4427;