Testimonials - What our clients are saying...


"I first fished with Clearwater Adventures about 4 years ago. When I recently had the opportunity to return to Calgary, I had no hesitation in rebooking with them because of their outstanding, friendly, and efficient service. The owner, Kim Straker, is extremely knowledgeable and just a pleasant guy to fish with, whether it is a float trip on the Bow River or a wading trip in one of the many smaller rivers in the mountains. He has a fine balance of providing advice on the river, without being overbearing, and will stay on the river all day without any hint of impatience. He also brings along a high quality camera and provides you with a CD full of outstanding pictures. This was a first for me and a very welcome bonus. The same can be said about Quinn Soonias, with whom I had the opportunity to float the Bow recently. It was a brutal day because of a howling upriver wind. Somehow, he managed to row through all of that without a single complaint. His only objective was to get me on to fish, regardless of the conditions. I would highly recommend Clearwater Adventures to anyone who wants to experience the Bow River or the local mountain streams, and look forward to fishing with them again in the near future."

Hector, Ohio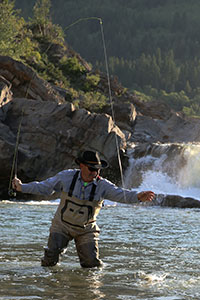 "Hey Kim,
Thanks for a great time fishing on the Bow and down in Crowsnest. I've enjoyed many guides in some beautiful places but fishing with you in Calgary is at the top of my list. We did quite well in both places but I particularly enjoyed the fishing on the Livingstone and the Oldman Rivers. The fish were plentiful and strong and the scenery was unmatched. To top that off, your photos and video captured the fish, the setting and the adventure. They will provide me with fond memories for years to come. I've told my friends about you and the Canadian Rockies and they are all envious. It was a great trip and I look forward to fishing with you again.
Take Care,"

Ed, New Jersey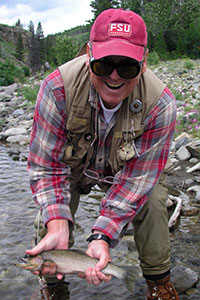 "I have been fishing off and on with Kim over the past ten years. The first year he helped my wife, re-introducing her to the fine art of fly fishing, on the streams that are the Oldman and its watershed. We slayed the fish that year, and many years since. However, there are other things about being in the great outdoors that make up the entire experience.

Kim as a person is the kind of person you just naturally want to hang out with. I've had the pleasure of fishing with him and his son, and friends of his. Who a person chooses as a friend; how one relates to one's family; how he takes care of his clients; all these things are testimonials to the kind of person Kim is. This past season was the best in the mountains in several years, despite a devastating flood that affected the Oldman watershed.
Tight lines! Go fishing! Kim knows where the fish live, and, it is beautiful there!"
Scotty, Florida
"I would like to encourage any "spin fishers" out there to embrace a far more satisfying kind of fishing! After a day on the river with Kim, you will wonder why you never tried the fine art of fly fishing before! There are many people who can teach you how to fly fish, but there are few that are as knowledgeable and encouraging, and few that enjoy it as much as Kim does! His passion for fishing is only matched by his passion for teaching .. in my books, you can't get a better guide than that! It was a real privilege to spend three days with Kim on the river and I can guarantee it will never fade from my memory!"
Peter, Calgary